Care Provider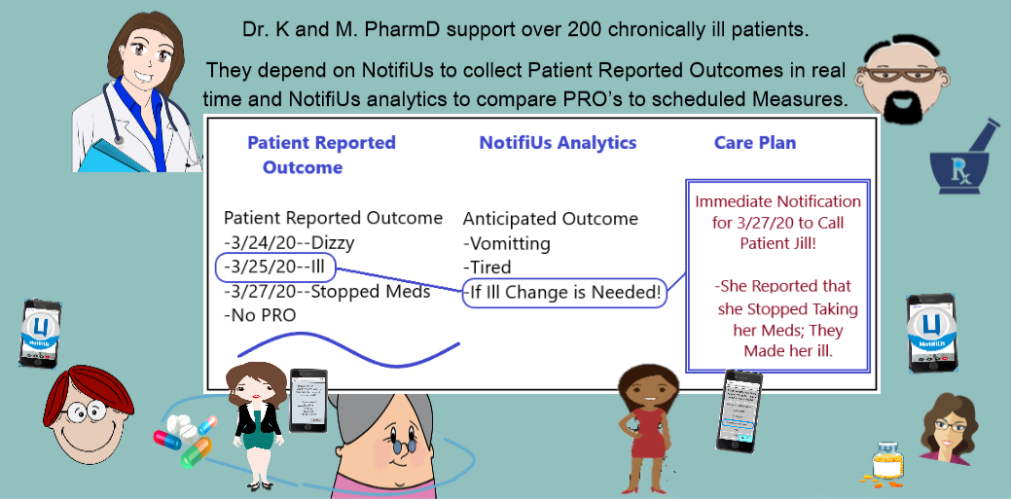 Dr. K and her team turned to the NotifiUs SaaS platform, and the NotifiUs team, to configure a patient self-management plan and track each patients' medication history data and reaction to medication. This allows the care team to compare patient reported outcomes with the expected patient outcome "measure" based on each unique treatment program.
Each patient receives custom video messaging services as part of their self-management plan to remind, educate and encourage every individual to follow any special instruction and report events for their unique treatment program. Patients may experience adverse effects or require specific food or beverage restrictions with their medication.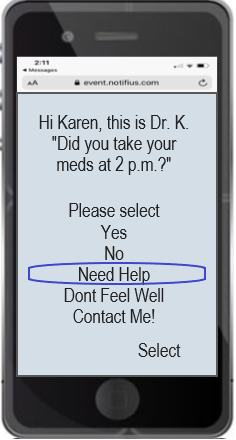 Text and Interactive Voice Response (IVR) features let care providers reach any patient in any location at any time of day or night. This is critical to address novel therapeutic strategies and to enhance clinical processes that further improve patient outcomes. And to help patients take charge of their own care.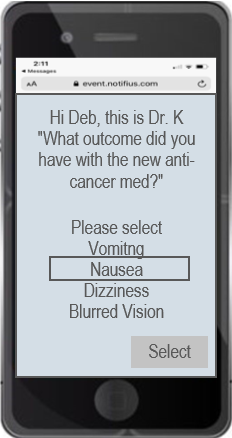 Follow up short-survey messages allow each patient to easily report their success with meeting medication adherence requirements, experienced side-effects, or requests for assistance-in real time! These messages are translated by the NotifiUs SaaS platform into data and used for Quality of Care Assessments and MACRA/MIPS data for reimbursement measures.
Analytics and Algorithms- Machine learning algorithms study patient data and identify positive and/or negative self-care trends and non-compliant actions with follow up custom alert notifications, unique suggestions for improvement, or messages of encouragement.
Example of Custom Patient Engagement with Short Survey Message: Toxicities and Drug-Drug Interactions: Symptoms such as fatigue and pain intensity are key domains as Measures for Patient-Reported Outcomes. Symptoms are typically negative, and their presence and intensity are best assessed through patient report. Scales characterize the severity of the symptoms. The impact of symptoms, such as the degree to which pain interferes with usual functioning, are examples of the types of PROMs that can be addressed through the NotifiUs SaaS platform.