NotifiUs Messaging Services built on the AWS EC2 platform.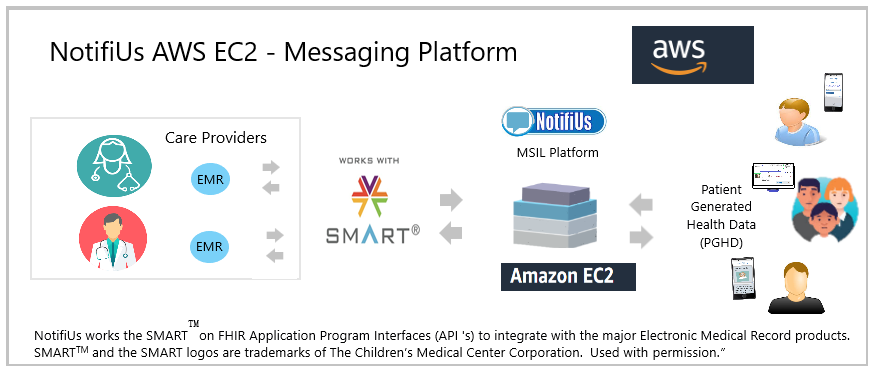 Patients' views of their health status have rarely been sought outside of clinical trials for new drugs or medical devices and medical specialties that focus on conditions for which there are few objective measures of improvement.

Yet the ultimate measure of health system performance is whether it helps people recover from an acute illness, live well with a chronic condition, feel good about new behaviors, or provide a baseline for the patient to measure a healthy and happy life.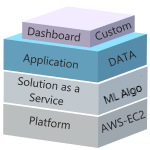 The NotfiUs Digital Messaging and Interactive Learning Platform digitally connects with patients on a real time basis through mobile and web applications. Through these connections patients provide a continuous source of information about their health and well-being that can be used as data for care analysis and education. Patient Provided Health Data (PGHD) provides information to EHR's (Electronic Health Records) to help with shared decision-making through FHIR (Fast Healthcare Interoperability Resources) API's (Application Program Interfaces) about preventive and chronic care management, offers potential cost savings and improvements in quality, care coordination, and accelerates insurance reimbursement and patient safety.
What is Patient Generated Health Data?

Patient-generated health data (PGHD) are health-related data created, recorded, or gathered by or from patients (or family members or other caregivers) to help address a health concern.

Why is PGHD Important?

o As healthcare moves toward a more value-based reimbursement program that is based on quality of care, the patients' assessment of the treatment they receive or the treatment they did not receive is critical to the revenue stream for the care provider.

o For patients following care plans that include prescribed medications, rehabilitation steps, reporting of side effects or behavior changes real-time data is critical to understand the patients success with following their plan or if assistance or changes are needed.

o Patient-reported outcomes for specific treatments help to measure whether clinicians are improving the health of their patients.

o Care providers can better leverage structured and approved metric such as the Patient-Reported Outcomes Measurement Information System (PROMIS) to better assess quality of care.

o Artificial Intelligence or Machine Learning algorithms and provide direct feedback to patients or added analysis to the care provider team.

o Patient generated data can now be added to a patients' electronic medical record or electronic health record through the NotifiUs FHIR © API integration module.

o The health and wellness of employees can benefit with NotifiUs digital learning and messaging tools.

o 95% of the U.S. population is reachable through SMS texting capability. NotifiUs Reminders and Short Survey Messaging Services are based on this standard and can reach virtually any patient within any community regardless of zip code.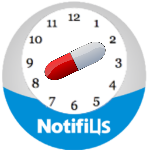 Medication Adherence.. Over 150 million Americans take prescribed medications each day. And 30% to 40% of those do not take their medications properly. This creates over $300B in avoidable cost and the preventable death of over one hundred and twenty thousand patients. Medication adherence is a complex challenge with no single solution. NotifiUs takes a friends and family approach to the behavioral aspect of patient adherence and coordinates text, video, YouTube™ video, and interactive voice messaging between the patient and other friends and family members- as a structured system of reminders,  messages of encouragement and underlying data analytics to motivate the patient to be healthy! The patient data can also be used by healthcare providers for Merit-based Incentive Payment System (MIPS) reimbursement.  
Patient Reported Outcomes (PRO's) - Short Survey Messaging Services. Through the NotifiUs Dashboard custom short survey messages can be quickly configured for a single to many individuals, including companies. Applications range from research, market testing, recruitment for pharmaceutical trials to feedback on new not-for-profit communication/education programs, feedback on medication side effects, patient reporting of quality of received care, as well as patient reported outcomes (PRO). An initial custom video, YouTube™ video, interactive voice response or text message presents the new concept or healthcare reminder, and is automatically followed by the unique NotifiUs Short Survey Message to gather participant feedback. Data tracking with analytics and reporting are generated through the NotifiUs platform.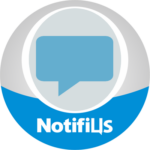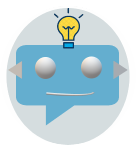 Interactive e-Learning with Intelligent Analytics for Better Education, Training and Certification. Our new interactive e-Learning application is simple to deploy and easy to use across education, small and large businesses, and healthcare and government organizations. The NotifiUs Dashboard lets individuals or teams assigned to classes, training programs, certification or on-boarding processes actively engage to build knowledge on a participatory basis, through encouraging self-thought, and independence.

"SMART TM and the SMART logos are trademarks of The Children's Medical Center Corporation. Used with permission." This logo is not an endorsement of this product.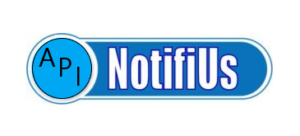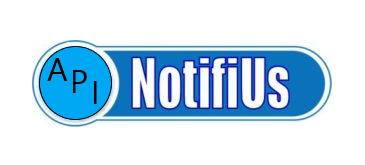 The NotifiUs 'Solution as a Service' architecture supports a robust set of open interface standards to integrate with external product and services for current features and custom development, as well.