Patient Engagement Record for Self Management
Custom Medication Adherence Plans: Each patient's unique adherence plan and supporting mobile communications session is configured and managed through the NotifiUs Dashboard. Easy-to-use pull down tabs make it simple to administer new or update existing medication adherence schedules, identify patients seeking assistance or special attention, and completing survey's on medication side effects, reasons for non-adherence, or other patient data that needs to be collected and analyzed. 
Integrated Data Analysis and Reporting: All patient data, and engagement record information is stored within the NotifiUs HIPAA secure data base. Survey text messages collect patient response to questions, such as if they "took their meds at a prescribed time", by selecting a "yes" or "no" answer, or by simply not responding at all. Other queries may ask about blood pressure or A1C levels, or request information on side effects or specify reasons for non-adherence. 
Patient response to adherence queries and reminders as well as other survey questions are reported are studied for immediate follow up and/or longer term analysis. At the beginning of each day a care provider can quickly view every patient's progress with meeting their respective drug adherence schedule, and take appropriate follow up. Unique embedded algorithms are set for each patient, report a patients progress toward reaching adherence objectives. For example, if a patient reports their body weight is increasing, when their schedule calls for a weight reduction, automated custom messages can be sent to the care provider, family members, or back to the patient reminding them of the importance of proper body weight management.
How to Configure Individual Custom Plans: 
Step 1 is to include a title for the message with the start and end dates for the overall program. Pre-defined templates are available with charts and schedules already configured.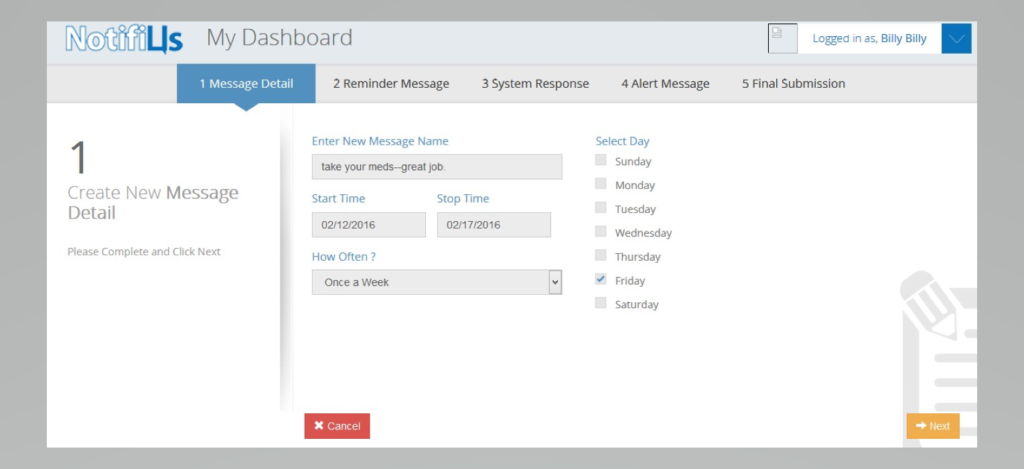 In Step 2 the administrator adds the custom content for the reminder message and the time of day (or multiple times of each day) to send the message. Text survey messages can also be added at this step. The administrator can select which type of survey they would like to send to the patient; a simple "yes" or "no" query, or a response that requires a number such as "weight", 'Blood Pressure", "Glucose", "A1C" or "LDLC". Or a survey with an open response field can be added. 
Reasons for completion or non completion of tasks can be configured, which enables the patient to quickly and easily select a response to the query message. For example, the patient may respond that they did not take their medication, at the prescribed time, and select a reason e.g. "too tired", "no refill", or "makes me ill". Embedded algorithms are uniquely adjusted for each patient and tracked by the NotifiUs platform.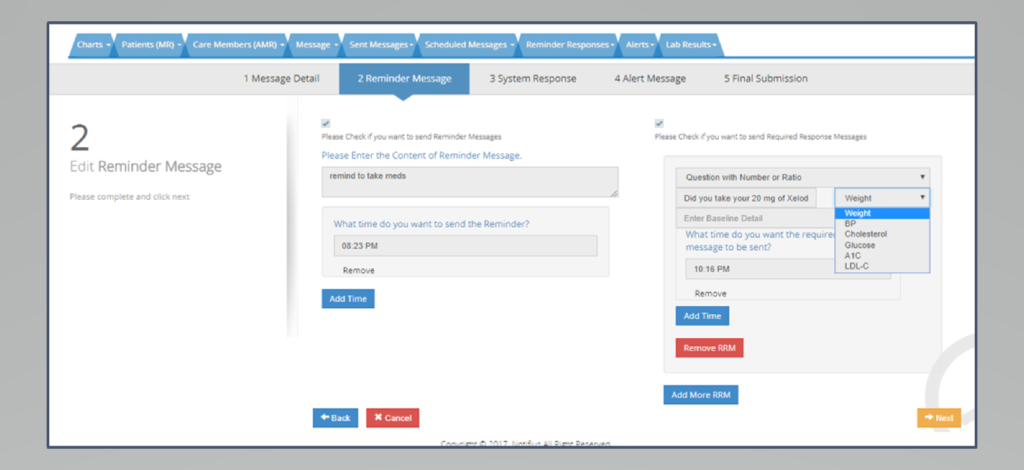 Step 3. For added encouragement or as a reminder of the consequences of not following the adherence schedule, automated messages can be configured and sent to the patient, with the auto message matching the patient's response.
In the event the patient does not respond at all to a response request or survey type message an Alarm and Notification can be triggered at Step 4. For example, a family member may live close to the patient and if the patient does not respond to a required response survey message, that family member may be instructed to visit the patient and offer assistance.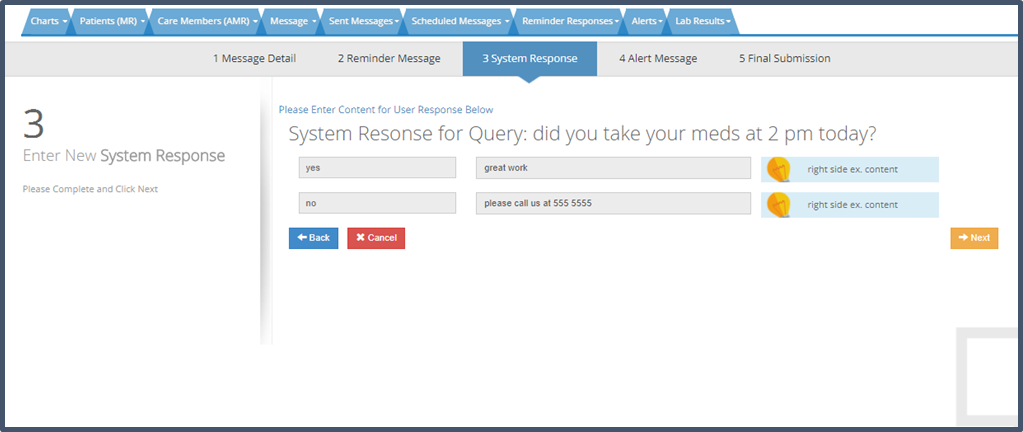 Step 5 is the final step. The administrator can simply save the message for implementation, or designate other individuals, as Additional Message Recipients, to receive copies of some or all of the patients' messages to add encouragement and support. These specific reminder and survey messages can be saved as a template and used again in the future.
Patient data from the NotifiUs Patient Engagement Platform can be used on a stand alone basis or integrated with existing EHR or billing systems.