Features
Configure Custom Medication Adherence Plans for Each Patient:
Each patient's unique adherence plan and supporting communications session is configured and managed through the NotifiUs Dashboard. Pull down information tabs make is simple to administer a full range of patient record functions like, adding new medication adherence schedules, or updating existing schedules, quickly identifying patients asking for assistance, listing Alerts and Notifications that call for special patient attention, as well as completing survey's on medication side effects, the conditions for which patients do not adhere to their schedule, or virtually any other data you wish to collect from the survey's.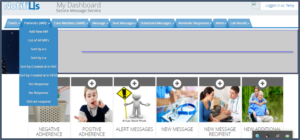 Track Patient Adherence Progress and Other Reported Issues with Integrated Data Analysis and Reporting:
All patient data, and engagement record information is stored within a HIPAA secure data base. Patient data can be analyzed to measure a number of important healthcare considerations. Is the patient properly following their schedule? And if they are not, what are the reasons and how can their schedule by changed to improve quality of care.
Survey text messages collect patient response to questions, such as if they "took their meds at a prescribed time", by selecting a "yes" or "no" answer, or by simply not responding at all. Other queries may ask about blood pressure or A1C levels, or request information on side effects or further clarity on reasons for non-adherence.  As seen from these screens.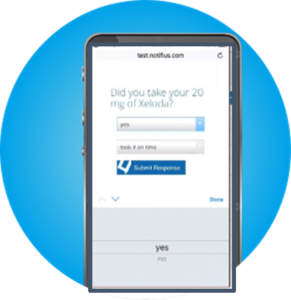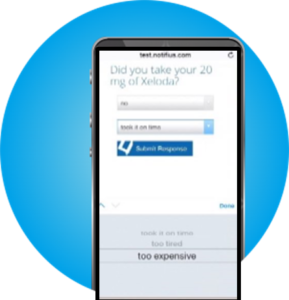 Patient response to adherence queries and reminders as well as other survey questions are reported to the patient's record, filed for immediate follow up and/or longer term analysis and can be included within a variety of reports and charts. At the beginning of each day a care provider can quickly view every patient's progress with meeting their respective drug adherence schedule, and take appropriate follow up. The Patient Engagement Platform also has integrated algorithms that can be custom set for each patient. For example, if a patient reports their body weight is increasing, when their schedule calls for a weight reduction, automated custom messages can be sent to the care provider, family members, or back to the patient reminding them of the importance of proper body weight management.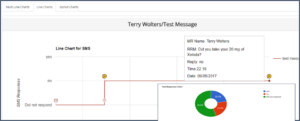 How to Configure Individual Custom Plans:
Initially, the administrator assign's each patient a unique User Name and Security Code. When the patient receives messages they must sign in using that User Name and Security Code to meet HIPAA requirements, as viewed with the screen shot below.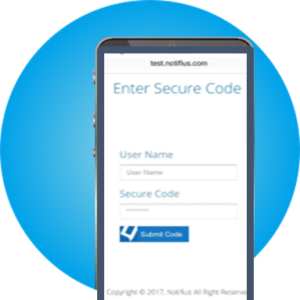 After assigning the security information for the patient a custom adherence plan is put together by following the below steps. Configuring reminder messages for taking medications or for completing follow up actions like appointments or education sessions is quick and straight forward. Survey text messages to collect data on the patient meeting their adherence schedule as well as reasons for non-adherence or side effects, can also be included. The Patient Engagement Platform includes algorithms that review a patient's response, and based on that response, send automated follow up Alert or Notification instruction messages to specified individuals.
Step 1 is to include a title for the message with the start and end dates for sending messages. Pre-defined templates may be available to break-out specific charts for follow up analysis for patients within these programs. In the example below both Diabetes and Oral Oncology are identified templates.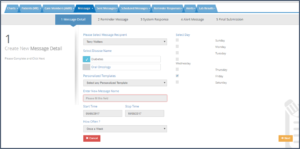 In Step 2 the administrator adds the custom content for the reminder message and the time of day (or multiple times of each day) to send the message. Text survey messages can also be added at this step. The administrator can select which type of survey they would like to send to the patient; a simple "yes" or "no" query, or a response that requires a number as a response such as "weight", 'Blood Pressure", "Glucose", "A1C" or "LDLC". Or a survey with an open response field can be added. For example; please let us know how you felt today "________________".
Two unique features are integrated within the Patient Engagement Platform. The first is that pre-set responses can be configured within the survey message. The patient may respond that they did not take their medications and a can select from a list as their reason, e.g. "too tired", "no refill", "makes me ill", etc.
The second feature includes the use of algorithms to generate automated system responses. For example if a patient should gain weight during their adherence program and they report a weight loss, that variance will auto generate an Alarm or Notification for immediate response from the care provider.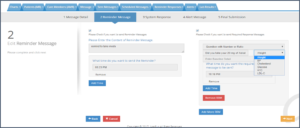 For added encouragement or as a reminder of the consequences of not following the adherence schedule, automated messages can also be configured and sent to the patient, with the auto message matching the patient's response.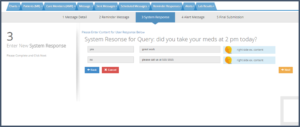 In the event the patient does not respond at all to a response request or survey type message an Alarm and Notification can be triggered at Step 4. For example, a family member may live close to the patient and if the patient does not respond to a required response survey message, that family member may be instructed to visit the patient and offer assistance.

Step 5 is the final step. The administrator can simply save the message for implementation, or designate other individuals, as Additional Message Recipients, to receive copies of some or all of the patients' messages to add encouragement and support. These specific reminder and survey messages can be saved as a template and used again in the future.

Patient data from the NotifiUs Patient Engagement Platform can be used on a stand alone basis or integrated with existing EHR or billing systems.