Medication Adherence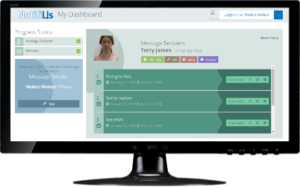 Our Software as a Service (SaaS) Platform
Each day many tens of millions of Americans improperly take their prescribed medications; creating significant Quality of Life and unnecessary cost issues. NotifiUs takes a new approach to this critical healthcare challenge, and provides a comprehensive set of mobile, and web based eTools to assist individuals and care professionals easily help others to improve adherence to prescribed medications.
 Simple Instruction - Easy to follow instruction to configure a custom medication plan for each individual.
 Educate & Encourage- NotifiUs supports custom text, video or Interactive Voice Response (IVR) type messages.
 Short Survey Message - A Short Survey message allows each patient to easily report outcomes, confirm medication taking, request assistance or validate side effects.
 Analytics - Patient reported responses are translated into data and analyzed to report patient success with meeting their care plan goals.
 Notifications - Patient feedback can be shared with others as part of virtual care team process.
 Surveys - Use survey features for follow up assessments, qualification for trials and completing Quality Payment Program (QPP) for MACRA/MIPS reimbursement.
"Do you or someone you care about need help with taking their prescribed medications?"
Our Mission
The reasons for medication non-adherence (including over prescription) are complex and often vary from person to person. But no matter the behavioral, financial, cultural, zip-code, or educational challenge (to name a few reasons) that impact proper adherence, getting the patient, friend, or family member to improve their own self-care is a critical first step toward a positive change. Our mission is to provide the HIPAA secure digital tools to address and minimize the challenges to proper medication adherence.
After registering simply complete the pre-loaded "3 Step" instructions and within in a few short minutes a complete custom digital dashboard with a care plan is finished! The plan includes unique video, text or IVR messages, short survey and notification messages with integrated analytics to track adherence progress and most importantly real time notifications between the patient and friends, family or care professionals to provide real time encouragement and support.